Urban Core Advisors – In The News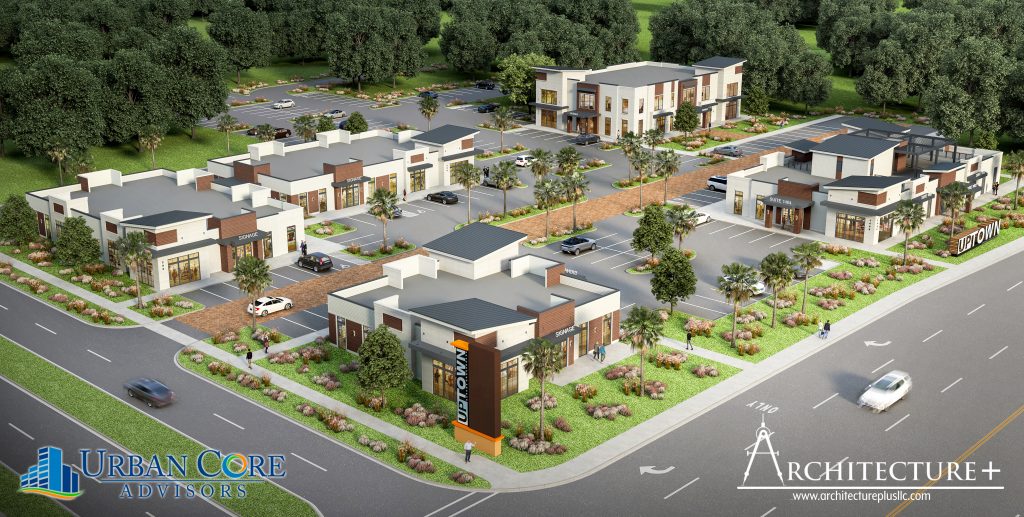 GOOSE CREEK — The city and Urban Core Advisors have announced a partnership on the $50 million Uptown development at Carnes Crossroads.
The development will have over 100,000 square feet of commercial buildings, including restaurants, retail and flex space. The project will also have public green space once construction is complete.
The city entered into a partnership with the Charleston-based developer to maximize the community's use of the green space and to help make Uptown a true destination development, according to a press release announcing the partnership. The public spaces — already named "The Promenade" and "Grand Lawn" — will host events such as happy hours, concerts and other community activities throughout the year.
Mayor Greg Habib said he is enthusiastic about the development, which will allow the city to broaden its reach into recreation and community events.
The city already hosts a number of community events in Carnes Crossroads, like outdoor movies and food truck events. This project will give Goose Creek another space to hold such events.
"We've used the word 'game-changer' more than once over the past few years, and this project certainly fits that description," Habib said. "Goose Creek has already been voted the best place to live, work and play, and projects like this are why."
This development will also feature high-end architectural design and enhanced walkability to draw visitors, comparable to a village, said Gary White, the developer of Uptown and principal of Urban Core Advisors. According to the press release, the concept is to make the development itself a destination.
White said he's optimistic for the end result of the Uptown development, and believes the community at large will benefit from it significantly.
"We think (this project) certainly lends itself directly to the city's major goals and their future planning and design," White said. "We're happy to be able to help provide part of that for the future of the city."
Phase one is estimated to break ground in November, according to White. The first commercial spaces will be open in the first half of 2023, and the entire project is slated for completion by 2026.
SEE FULL ARTICLE FROM POST AND COURIER BELOW
https://www.postandcourier.com/news/goose-creek-developer-announce-partnership-on-50m-carnes-crossroads-development/article_9b116536-350c-11ed-8b9a-97d8057a456b.htm